Groningen hosts exhibition on Dutch Admiral on service of Russian Tsar
/ Главная / Russkiy Mir Foundation / News /

Groningen hosts exhibition on Dutch Admiral on service of Russian Tsar
Groningen hosts exhibition on Dutch Admiral on service of Russian Tsar

21.03.2018
An exhibition dedicated to the Dutch Admiral Lodewijk van Heiden who were on service of the Russian Tsar (Login Petrovich Geiden, 1773 – 1850) started on March 16, 2018, in the Marine Museum in Groningen, the Netherlands.  
The museum director Jan Wibe van Fejen made a speech at the exhibition about the conception of this exhibition. Besides, the director of the Russian center Hans van Koningsbrugge made a presentation about his recently published book titled The Fate Rules! Login Petrovich Geiden, the Admiral on the Russian Service.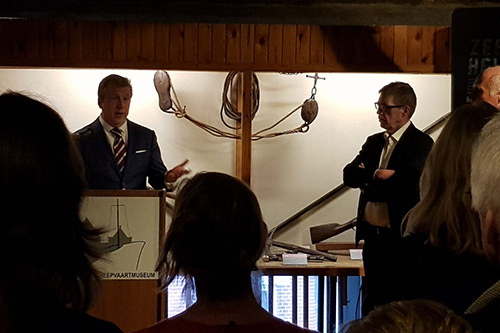 Johann Zilstra, the author of the documentary about the admiral talked about filming the movie and collection of historical materials in archives of the counties where the admiral carried out his marine duty: Russia, Greece and Estonia. There were many people at the exhibition opening. Everybody is welcome to attend the exhibition until the end of May, 2018, to buy the book about the Admiral van Heiden and to watch the documentary about him. 
The events dedicated to life and military service of Admiral van Heiden continue for more than a half of the year in the northern part of the Netherlands where he was born and grew up. His memory and deeds are duly respected there up until now.  
Tatiana Mironova, Groningen