Russkiy Mir to develop cooperation with Japanese universities
/ Главная / Russkiy Mir Foundation / News /

Russkiy Mir to develop cooperation with Japanese universities
Russkiy Mir to develop cooperation with Japanese universities

06.02.2018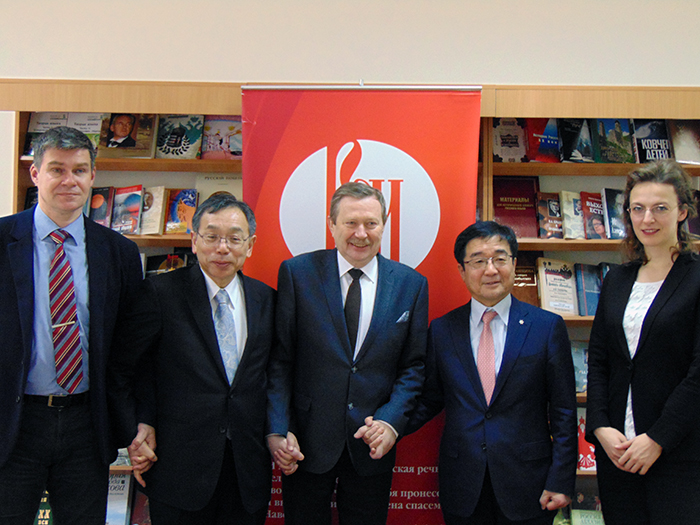 A delegation from Japan comprising Niigata University's President Sugata Takashi and Hokkaido University's President Toyoharu Nawa arrived to the Russkiy Mir Foundation on February, 6.
The Executive Chairman of the Russkiy Mir Foundation Vladimir Kochin has greeted the delegation at the Russkiy Mir office and underlined the importance of expansion of the cooperation (the Foundation has been fruitfully working with Soka University of Tokyo for several years, a Russian Center being opened at the University) and talked about main directions of the foundation's activities.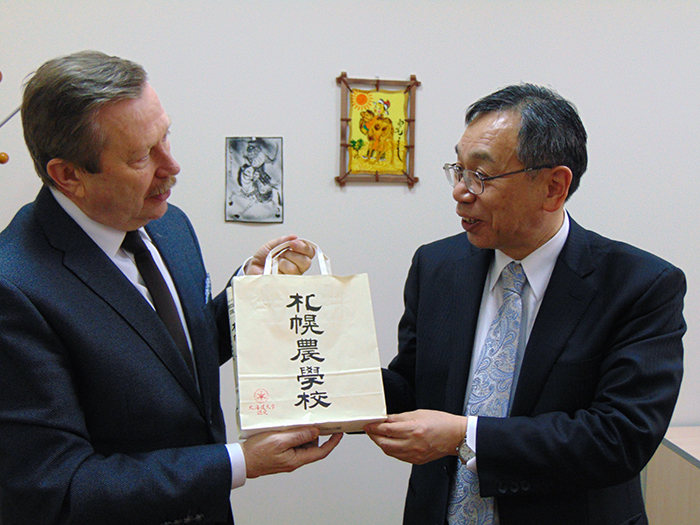 The meeting's participants talked a lot about students' internships interuniversity exchange programmes and creation of Russian-Japanese Student Association. Speaking about possible directions for cooperation in the field of educating Japanese specialists with knowledge of the Russian language, V. Kochin has remarked that the foundation "is always glad to support projects of our foreign partners, so this is the purpose of modernization of our main programmes – opening Russian Centers all over the world and developing scholarships' programme. The most important thing is that initiatives should come from the universities and, in case of the student association, from students.
Members of the Japanese delegation talked about the history of educating specialists with knowledge of the Russian language at Japanese universities, interaction with Russian universities and implementation of Russian – Japanese Educational Programme. Sugata Takashi has said that Niigata University is conducting annual Russian language courses attended by around 40 students who are, after the graduation, actively involved into development of the humanitarian ties with Russia and economic development between our countries.
Hokkaido University's President Toyoharu Nawa was interested in the Russkiy Mir Foundation programme Professor of the Russian World. University has been collaborating with Lomonosov Moscow State University for ten years already and has just started the collaboration with Pacific Federal University as well as the university is developing joint programmes with Bauman Moscow State University, so, the Japanese University's President is sure, that the Foundation's programme would be a great support to the interuniversity cooperation.
The above-mentioned programme evoked great interest of the Japanese colleagues. The participants discussed certain conditions of sending Russian teachers to the Niigata and Hokkaido Universities on business trips.
Russkiy Mir