Russkiy Mir Foundation supports new educational platform in China
/ Главная / Russkiy Mir Foundation / News /

Russkiy Mir Foundation supports new educational platform in China
Russkiy Mir Foundation supports new educational platform in China

01.12.2017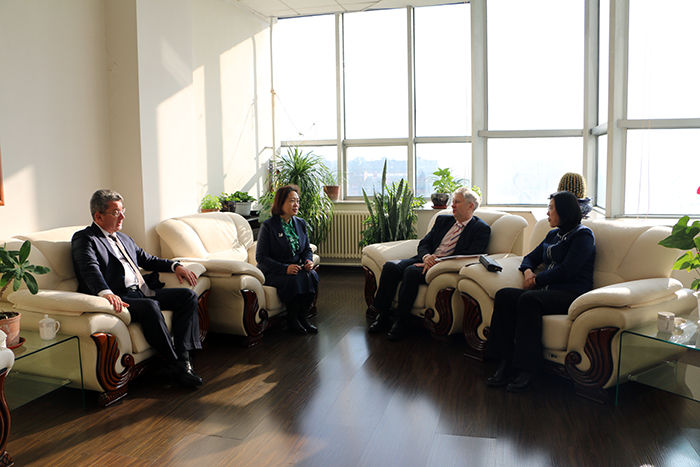 The International Educational Platform founded by mutual efforts of Russian and Chinese philologists was solemnly opened on 24th of November 2017 in Changchun University, China. The platform was initiated by Pacific National University, Khabarovsk city, which has been actively collaborating with leading Chinese universities for more than 150 years and implementing joint educational programs and scientific-methodological projects. The international educational platform was created as a part of federal target program Russian Language for 2016 – 2020 and received informational and organizational support from the Far Eastern division of the Russkiy Mir Foundation and Asian Pacific Association of Russian language and Literature Teachers.
The governmental officials of the Jilin province, China, were present at the opening ceremony. The greetings were pronounced by Consul General of the Russian Federation in Shenyang Sergei Paltov, Director of the Far Eastern division of the Russkiy Mir Foundation, President of Asian Pacific Association of Russian language and Literature teachers Alexander Zubritsky, Rector of Changchun University, Director of the Foreign Languages Institute of Changchun University and Director of the Head office of Foreign Citizens' Testing Elena Krapivnik.
The representatives of China have noted that China has the largest number of students studying and speaking Russian in the world and keeps thee hundred year traditions of studying Russian language and literature.
The international educational platform will be responsible for organization international contests and Olympiads on Russian language, creation of its own educational studying materials and development and conduction of training programs for Russian and Chinese teachers of the Russian language by means of Pacific State University, Changchun University, Shenyang University and Shenyang Pedagogical University.
Handing out certificates and valuable prizes to Chinese students who won International Olympiad on the Russian language I speak the Language of Pushkin timed with Year of Pushkin declared by the Russkiy Mir Foundation wrapped up the gala opening ceremony.
Russkiy Mir