Vyacheslav Nikonov: we approve Russian – Cuban humanitarian relations
/ Главная / Russkiy Mir Foundation / News /

Vyacheslav Nikonov: we approve Russian – Cuban humanitarian relations
Vyacheslav Nikonov: we approve Russian – Cuban humanitarian relations

16.10.2017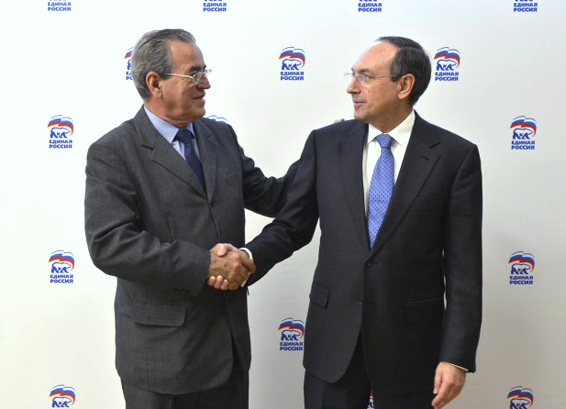 Chairman of the State Duma Committee on Education and Science, chairman of the Russkiy Mir Foundation board of directors
Vyacheslav Nikonov
and executive director of the Russkiy Mir Foundation
Vladimir Kochin
greeted the delegation of Cuba in the State Duma on October 13, as per press-service of the State Duma Committee on Education and Science.
The Cuban delegation was represented by Minister of Higher Education of Cuba
Jose Ramon Saborido Loidi,
Extraordinary and Plenipotentiary Ambassador of Republic of Cuba to Russia
Emilio Lozada Garcia
, Director of Department of International Relations of Higher Education Ministry of Cuba
Raul Ernandes Peres
and Attache of the Cuban Embassy in Russia
Vivian Hitchman Miranda
.
Vyacheslav Nikonov has noted that Russia and Cuba have been good partners for a long time. However, the nineties were not the best period of the bilateral relations. An array of positive changes have been going on lately, which we support in every way. He paid special attention to dynamic collaboration between the two countries in the humanitarian field and talked about contribution of the Russkiy Mir Foundation in this direction.
Minister of Higher Education of Cuba Jose Ramon Saborido Loidi has reminded that thousands of Cubans graduated from USSR universities. They positively influenced Cuban economics. Feelings of solidarity, affection and warmth between our people are not gone, the minister added. He remarked that teaching of the Russian language has been resumed in Cuba, educational programmes and students' selection for studying in Russia are improving.
Vyacheslav Nikonov supported the idea of Cuban delegation to extend a dialogue in the sphere of education and science. At the end guests invited Vyacheslav Nikonov to University-2018, which the largest Cuban Scientific-educational forum. The head of the State Duma Committee has gladly accepted the invitation.
It is worth reminding
that at the beginning of October the Russkiy Mir Foundation delegation arrived in Cuba to visit Russian Center and to meet Russian Ambassador to Cuba Mikhail Kamynin.
Russkiy Mir Foundation supports the Cuban students arriving to Russia for getting higher education in our country. Three hundred students from Cuba entered the universities in Russia over the last three years thanks to the help of the Russkiy Mir Foundation.
Russkiy Mir
News by subject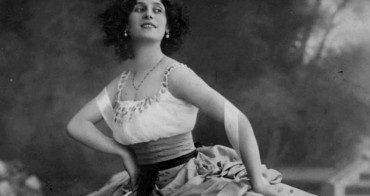 Today Russian ballet is a world-famous brand. It was Anna Pavlova, a famous Russian ballerina, who made it this way more than a hundred years ago. She was the one who suggested Sergei Diaghilev to include ballet performances in Russian Seasons. And soon the whole world was at Pavlova's feet. February 12 marks the 140th anniversary of the birth of this outstanding woman, whose name is remembered and whose talent is still admired all over the world.