Exhibition at the Art Salon of Pushkin Society
/ Главная / Russkiy Mir Foundation / News /

Exhibition at the Art Salon of Pushkin Society
Exhibition at the Art Salon of Pushkin Society

04.08.2017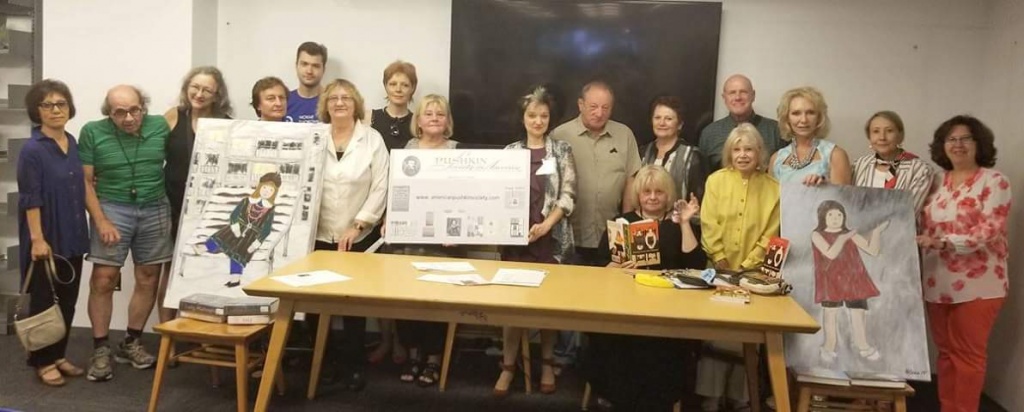 On July 29 the Art Salon of Pushkin Society in America opened its doors for the Art Exhibit presentation of Yelena Kimelblat series of paintings "Fairy Tales Animals" and a book reading by Dina Perepelitsky of her new book "How we ate our grandma". Both events have been dedicated to the loving memory of Dina Paisner.
Dina Paisner was born in Brooklyn in 1919. She was an actress and a model. Dina is a daughter of immigrants from Ukraine. In 2016 she passed away in the age of 96 years. Good friends of the actress were present on the event. They warmly spoke about Dina and mentioned the difficulties faced by families who immigrated to United States. Spider Duncan Christopher – the producer and director of many theatrical productions, spoke about his close friendship and work with Dina Paisner, as well as about her creative journey.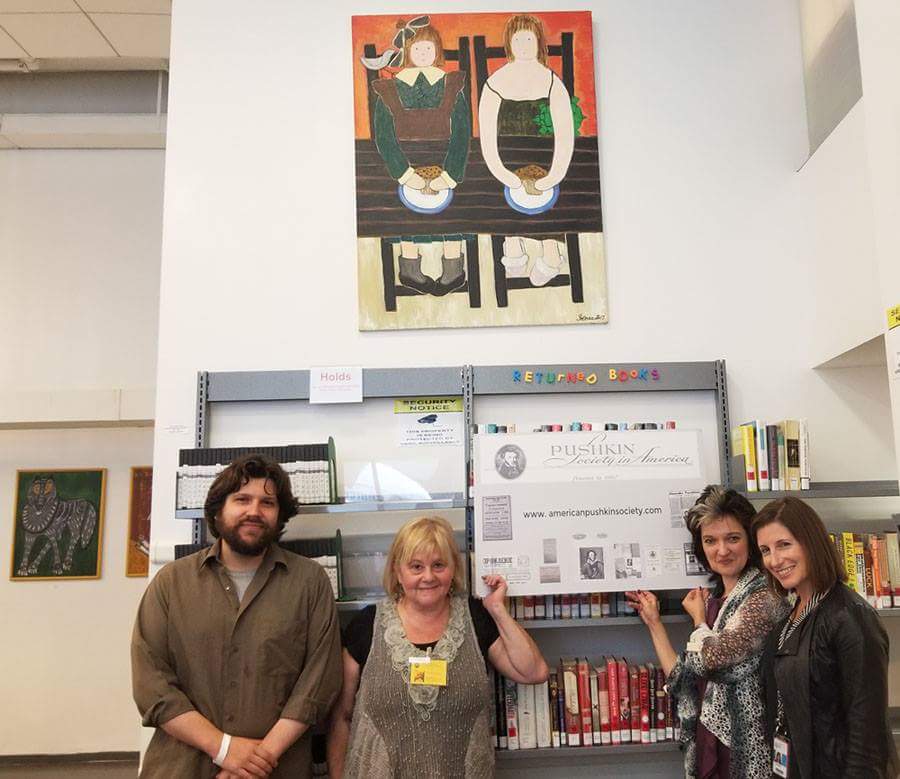 Dina Perepelitsky presented to the audience her new book How we Ate our Grandma The front and back covers of this book have been illustrated by the paintings of her twin sister Yelena Kimelblat.
This book already became popular in the circle of literature lovers. Dina's book contains of bright and sometimes ironic and paradoxical stories about the childhood of Dina and Yelena back in Ukraine, about the gap between generations and cultures.
Dr. Victoria Kurchenko in her event opening speech introduced the archive's materials. She added to the Art Exhibit one more document of the era – the mythological map, published in 1946. This map was created by talented American artist William Gropper, who was born in Lower East Side, but was a big lover of the Russian culture and visited USSR in 1927 along with Theodore Dreiser and other cultural leaders. At the time of Big Depression William Gropper created comics books of the popular legends and historical events. He placed it on this map of USA (William Gropper's America, its Folklore, 1946 by William Gropper. Produced in USA).
This literary-art show of the Pushkin Society in America made possible by the support and collaboration from the office of Grand Central Library and extraordinary team of the associates – Laura Stein and Greg Stoll, who created the atmosphere of the exquisite intellectual festivity.
Also, Victoria Kurchenko presented two books as a gift for Grand Central Library Russian section: How we Ate our Grandma by Dina Perepelitsky and Pushkin In The Etchings by Ilya Shenker. The gift was gratefully accepted by Laura Stein.
Natalia Piller