Guests from North Korea visited Russkiy Mir Foundation Office in Vladivostok
/ Главная / Russkiy Mir Foundation / News /

Guests from North Korea visited Russkiy Mir Foundation Office in Vladivostok
Guests from North Korea visited Russkiy Mir Foundation Office in Vladivostok

20.06.2017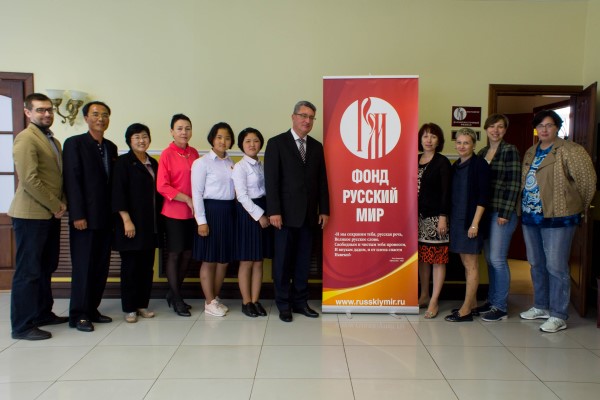 Children's delegation from Democratic People's Republic of Korea visited Vladivostok in June. The first trip to Russia became a deserved award for winners of the Second All-Republic School Olympiad on Russian Language of the Democratic People's Republic of Korea.
Traditionally, the visit's programme included main "paths" in Vladivostok of "the Great Leader, Comrade Kim Il Sung" (as Koreans often call him). Guests from North Korea were able to get to know Russian sea traditions reflected in the Museum of G.I. Nevelskoi Maritime State University with support from the Far Eastern representative office of the Russkiy Mir Foundation. The workers of the Russkiy Mir Foundation organized a meeting with Russian philologists, members of the Asian-Pacific Association of Russian Language and Literature Teachers for the schoolchildren.
Later, North Korean guests learnt about sea flora and fauna displayed in the Primorsk Oceanarium as a part of educational programme Fascination of Pacific Russia. It should be reminded that foreign students arrived at the Promirsk Territory last December and got an opportunity to improve their practical Russian language skills by attending special classes in the hockey club Admiral, Primorsk Oceanarium and Primorsk State Art Gallery.
Russkiy Mir