Gramota Russian school in Montreal holds Silver Archer USA Award
/ Главная / Russkiy Mir Foundation / News /

Gramota Russian school in Montreal holds Silver Archer USA Award
Gramota Russian school in Montreal holds Silver Archer USA Award

30.05.2017
Gramota Russian school in Montreal has got a prestigious award of the Silver Archer for its project developed by the school team with support of Russkiy Mir Foundation. Website containing a versatile curriculum on humanitarian subjects for Russian schools opened abroad was bestowed an award in the field of public relations' development Silver Archer USA.
The school team has worked out studying materials on universal history, history of Russia, literature and geography based on state standards of the Russian Ministry for Education and in accordance with optional work regimes of Russian educational centers. A database of presentations on all the subjects was created as well. As a result, an educational website was launched for storing database of studying materials and presentations in public access. Now teachers are welcome to borrow ready materials for strengthening and promoting Russian language, culture and education in the world.
Russian CG in Montreal Yuri Bedzhanyan and the head of representative office of Silver Archer USA and Executive Director of the Silver Archer Nadezhda Yavdolyuk handed the award to the project authors of during graduation evening at the Gramota Russian school in Montreal.
Gramota Russian School becomes a holder of the Silver Archer Award for the second time. First time it got it for the Living Chronicles of War 1941-1945 project in the Victory nomination in 2015.
Tatiana Kruglikova, Montreal
News by subject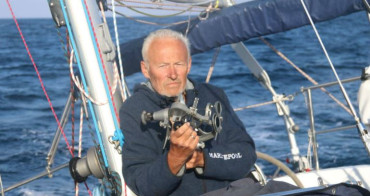 Igor Zaretsky, the legend of Russian and world yachting has celebrated birthdays and anniversaries in the open ocean time and again. The yachtsman from Yaroslavl admits that he may celebrate his 70th birthday in the Golden Globe Race, a single-handed round-the-world regatta. A year and a half ago, Zaretsky became the only Russian participant of the famous race, which was followed by the whole world. The tricolor has been flying over the yacht of the native of Yaroslavl in all oceans, except the Arctic one.