Az_and_Ya: Eastern Look. Russian language in the children's multilanguage context in Asia-Pacific Region
/ Главная / Russkiy Mir Foundation / News /

Az_and_Ya: Eastern Look. Russian language in the children's multilanguage context in Asia-Pacific Region
Az_and_Ya: Eastern Look. Russian language in the children's multilanguage context in Asia-Pacific Region

19.04.2017
International conference Az_and_Ya: Eastern Look. Russian language in the children's multilanguage context in the Asian-Pacific Region has started in Bangkok, Thailand. More than sixty school directors, teachers and specialists from 19 countries are among conference delegates.
Russian Ambassador to Thailand K. M. Barsky welcomed all participants. The ambassador underlined in his speech the significance of the Russian language in Thailand. It is in high demand in the field of tourism, business and trade. The number of students learning Russian is also increasing.
Executive director of Russkiy Mir Foundation V.V. Kochin has agreed with the Ambassador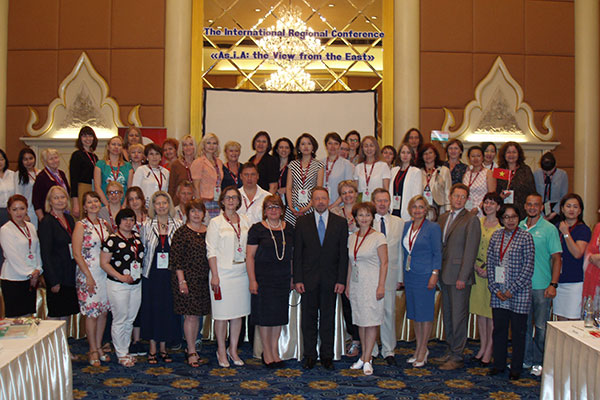 and has remarked that as a rule back up and promotion of the Russian language is facilitated by enthusiasm and self-devotion of Russian language school teachers, including those who arrived at the conference.
Conference organizer and coordinator, Russkiy Mir Foundation director Marina Burd announced that the conference is opened. She has emphasized the exclusive role of Russkiy Mir Foundation in support of this initiative and expressed her gratitude for understanding of significance and relevant character of this type of activities.
Conference participants and guests listened to presentations of schools and educational institutions taking part in the conference. Ensemble Katyusha from Bangkok and International ballet school Rosinkafrom Pattaya presented their dancing shows.
After the opening ceremony, the main conference programme continued: performances, presentations, experience exchange and discussions. 
Russkiy Mir
News by subject