Vyacheslav Nikonov: Russian is the first language spoken in space thanks to Gagarin and Tereshkova
/ Главная / Russkiy Mir Foundation / News /

Vyacheslav Nikonov: Russian is the first language spoken in space thanks to Gagarin and Tereshkova
Vyacheslav Nikonov: Russian is the first language spoken in space thanks to Gagarin and Tereshkova

03.03.2017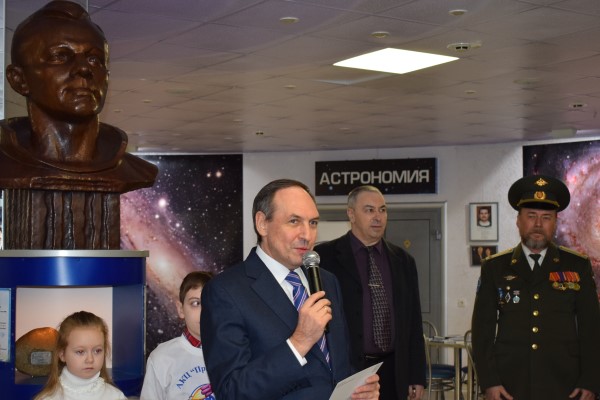 Vyacheslav Nikonov opened the campaign #Firstinspace in Nizhny Novgorod initiated by the ruling party United Russia and devoted to Valentina Tereshkova anniversary, according to media service of United Russia Representative Office in Nizhny Novgorod.
The campaign started in Nizhny Novgorod Planetarium as a part of opening ceremony of photo exhibition The First Ones dedicated to Yuri Gagarin and Valentina Tereshkova. The exhibit presented several dozens of pictures depicting legendary space conquerors at work and at leisure with colleagues and families. First guests of the exhibit were children – students of Lyceum № 50, cadets' group from Lyceum № 2 and visitors of planetarium astro-space club.
Chairman of State Duma Committee on Education and Science Vyacheslav Nikonov narrated about the possibility of every present visitor to congratulate Tereshkova in person by signing a card prepared by United Russia party.
"I remember April 12, 1961, when my father told me about the first trip to space made by our Jury Gagarin for the first time in history. I also remember June 16, 1963 when the space was conquered by Valentina Tereshkova. I am proud, as all of us, that the first language in space was Russian, thanks to first Soviet spacemen and technical engineers. Do you know, what were the words of Valentina Tereshkova setting off to space? "Hey! Heavens! Take off the hat!" These were exactly the words written on our cards and she would be very pleased to get congratulations from you, guys. And we will pass all of them to her", Nikonov added.
All cards signed by children and adults from Nizhny Novgorod will be sent to Valentina Tereshkova in the State Duma at her anniversary day 6th of March.
Russkiy Mir
News by subject