Sochi hosts 3rd International Pedagogical Forum Russian World. Education of the Future
/ Главная / Russkiy Mir Foundation / News /

Sochi hosts 3rd International Pedagogical Forum Russian World. Education of the Future
Sochi hosts 3rd International Pedagogical Forum Russian World. Education of the Future

06.12.2016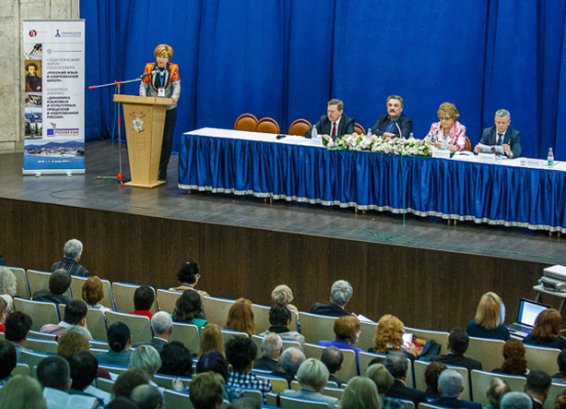 The Forum is held at the Zhemchuzhina hotel comlex. Over 300 participants, representing Russia, CIS and far-abroad countries, discuss urgent matters of teaching the Russian language and literature both in Russia and abroad.
Annual pedagogical forums provide their foreign guests with the opportunity to get information on main teaching Russian development trends in our country, to share their professional issues and experience with colleagues and to establish contacts with Russian teachers.
The participants of the forum discuss different matters relating to contemporary philological education, including use of creative teaching methods, opportunities provided by contemporary online education, and matters of teachers' advanced training. Special attention is focused on programs aimed at the support of reading, peculiarities of providing education to school children belonging to multi-lingual classes and the environment where another language is spoken, functioning of the Russian language as the national language in Russia. Russian and foreign school teachers and university professors will take part in the discussions.
This year, a youth section
100 projects
dealing with reading will be arranged as part of the Forum for the first time. It will be hosted by
«Sirius»
educational center.
Over 100 high school students representing Russia's regions participate in its work. School teams will present and try to implement their projects targeted at the development and preservation of reading culture. The section arrangers believe that the settlement of matters relating to children's and youth reading is only possible on condition of joining efforts made by teachers and initiatives taken by young readers.
A contest program has always been part of the Russian World forums. Russian and foreign forum participants traditionally present their creative and scientific projects dealing with the teaching of the Russian language and literature. A noteworthy detail is that specialists in Russian philology from the Donetsk People's Republic take part in the contest this year. Fifty projects presented in five categories, including Russian philology abroad, Innovative methods and technologies of distance Russian language and literature teaching, Teaching subjects relating to contemporary Russian philology at higher educational institutions, Development of reading in Russian, and Russian schools abroad and contemporary Russian schools, were sorted out to compete.
News by subject