Moscow to host jubilee Assembly of Russian World on November 3
/ Главная / Russkiy Mir Foundation / News /

Moscow to host jubilee Assembly of Russian World on November 3
Moscow to host jubilee Assembly of Russian World on November 3

09.10.2016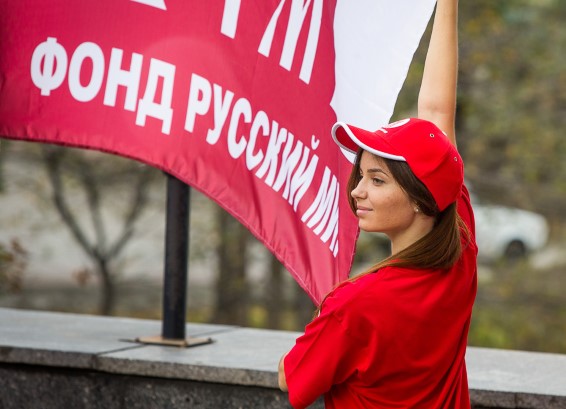 800 representatives of different countries are expected to arrive in Moscow to discuss urgent matters of the Russian World during panel discussions and round table sessions.
During the panel discussions and round table sessions their participants will cover such topics as
The Russian World in the global mosaic of civilizations
and
The Russian Language: its richness, diversity and Russian as a factor of solidarity
as well as the matters of the image of Russia in the light of its understanding by foreign people, the historical memory of generations, the features of Russian speaking mass media operating abroad, the development of a new Russian language textbook and traditions of Russian cinematography.
The opening ceremony will take place
at 10:00 hours on November 3, 2016, at the building where the Moscow government sits, found in 36, Novyi Arbat
. Famous politicians and public figures, heads of ministries and government agencies, representatives of associations of Russian compatriots living in different countries, university professors and school teachers of Russian schools operating abroad, authors of textbooks, scientists, writers, diplomats, religious leaders, culture experts and journalists are to take part in the event.
It is the first time the Assembly will follow
the International Youth Forum The Generation of the World
which will start
at 10:00 hours on November 2, 2016
at the Delta building of the Izmailovo Hotel Complex (71, building 4 D, Ismailovskoe Shausse, Moscow).
The forum program will include the summarizing of the results of the
Generation of the World
program, the awarding of the finalists of the contests entitled
It is for us to decide! (Slovo za nami)
and the 2nd International Contest of Young Journalists
Co-Creation
as well as various discussions, lectures and master-classes.
The Russkiy Mir Foundation will share detailed information on its activity, a program of events supposed to be arranged during the 10th Assembly of the Russian World and the foundation's plans dealing with the development of the organization during a press conference scheduled for
1 November, 2016.
The press conference is to be held at 10:00 hours at the Presidential Hall of Rossiya, the IIA Russia Today, found at 4, Zubovsky Boulvard.

Mass media accreditation is held till 28 October, 2016.
8-909-935-60-17, 8-495-981-66-70 (177)


[email protected]


The Russkiy Mir Foundation press-office
News by subject