Participants of Solidarity with Russia Forum adopt final resolution
/ Главная / Russkiy Mir Foundation / News /

Participants of Solidarity with Russia Forum adopt final resolution
Participants of Solidarity with Russia Forum adopt final resolution

31.08.2016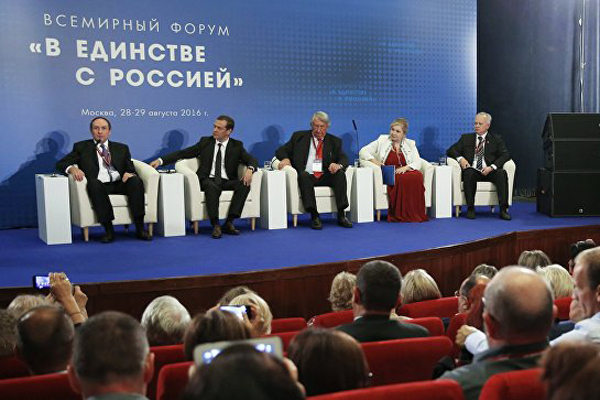 The participants of
Global Forum Solidarity with Russia
, held in Moscow on 28-29 August adopted a final resolution. Chairman of the State Duma Committee on Education and Chairman of the Management Board of the Russkiy Mir Foundation
Vyacheslav Nikonov
finds the document a momentous basis to be used by federal executive governmental bodies performing legislative functions and urged his colleagues, deputies of the State Duma, to consider it as an electoral mandate.
Resolution adopted by Solidarity with Russia Forum



In particular, the resolution deals with the importance of efforts made by Russian compatriots, living in foreign countries, focused on the preservation of their ethnic and cultural identity and strengthening of their relationships with the historical homeland. The document underlines that
«it is vitally important to improve the level of the Russian compatriots' engagement in social, political and cultural processes going on in Russia".
.





The Forum participants urge Russian citizens living abroad to take an active part in the State Duma election of the 7th convocation scheduled for 18 September, 2016. They express their support to the Russia's national policy aimed at
"the defense of rights and legitimate interests of Russian citizens living abroad and its contribution to the consolidation of the Russian world"
. The document also deals with the support of Russian state and public institutions focusing on the promotion of the Russian language abroad and popularization of Russian culture, science and history.
The Congress participants also stand for the preservation of the Russian language and teaching in Russian at educational institutions, the support of Russian speaking mass media operating in foreign countries and the introduction of a simpler procedure of receiving Russian citizenship by children of Russian citizens living abroad.
News by subject