Russian Culture: Modern Challenges in Harbin
/ Главная / Russkiy Mir Foundation / News /

Russian Culture: Modern Challenges in Harbin
Russian Culture: Modern Challenges in Harbin

16.06.2016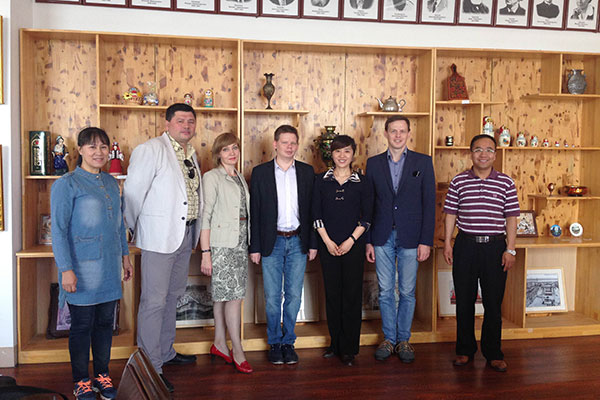 On 10-13 June, Blagoveshchensk State Pegadagogical University (BSPU) supported by the Russkiy Mir Foundation organized the II annual round table "Russian culture"Modern challegenes". The event was hosted by the Institute for Slavic languages of the Harbin Pedagogical University together with the Institute of Peoples' Diplomacy of the Asia-Pacific Region in Harbin, China.
The program included set of lectures dedicated to Russia's culture, put on by the BSPU professors for the fourth year Chinese students.
Oleg Shelomikhin, Head of department for Russia's history and special hostorical modules, discussed the history of sport in Rusia; this topic proved to be very interesting for the Chinese audience, raising a lot of questions.
The students also prepared presentations dedicated to sport's development in Russia, Russian poetry, Slavic mythology, Russian festivities and wedding traditions, as well as to other aspects of Russian culture.
Within the framework of the event, Sergey Kukharenko, Head of the department for academic mobility and projects at BSPU, and NIkolay Kukharenko, Head of international education and cooperation at BSPU, organized discussions titled "Key issue of Russian culture" and "Value that Russian culture brings to the world's civilization". The discussions gathered more than 50 students and teaching staff of the North-Eastern Chinese universities. 
Moreover, on 12 June, on the Day of Russia, Chinese students were able to take tours around the Russian heritage cites in Harbin and around Volga Mansion. 
During their visit to the Institute of the Slavic languages, the BSPU delegation, also had a meeting with Chao Ch'ueh, Director of the Institute, and Chan Tsinchun, Dean of the russian language department. Together, they made a plan od the further activities to promote Russian language and culture.
News by subject