We congratulate L.A. Verbitskaya on her jubilee!
/ Главная / Russkiy Mir Foundation / News /

We congratulate L.A. Verbitskaya on her jubilee!
We congratulate L.A. Verbitskaya on her jubilee!

17.06.2016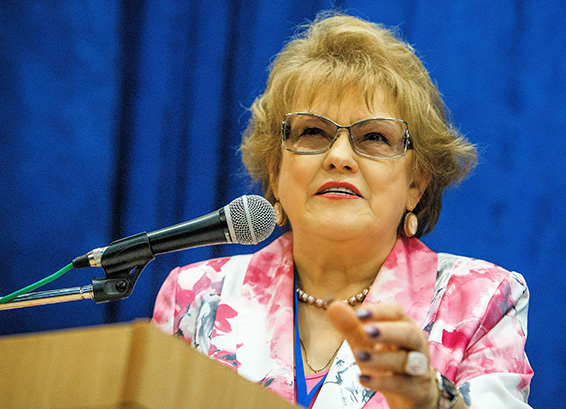 Dear Ludmila Alekseevna,
the Russkiy Mir Foundation congratulate you on your jubilee.
Its history, progress and achievements are associated with your name as well as its establishment in 2007. You joined us in order to reach the main goal which is making the world speak Russian.
Your prominent services to the State and global academic community is an example of a decent service for the benefit of the national homeland.
You have authority over researchers, Russian language teachers and trainers and all those who love the Russian language, literature and culture. Specialists in Russian philology living in different countries are proud of their activity carried out for the International Association of Teachers of Russian Language and Literature and of the fact that they know you personally and are your friends.
You always remain young because you are a charming, positive and hard working person and we always admire your enthusiasm, inventive power and self-possession.
We appreciate the opportunity to reach out to you when we need your experience, deep knowledge of the subject and erudition in order to settle matters dealing with our professional activity.
Dear Ludmila Alekseevna, we would like to extend our cordial congratulations on the occasion of your jubilee and to wish you health, happiness, every success in your activities including the promotion of high standards of Russian education as well as to express our hope for our fruitful cooperation in the future.
The Russkiy Mir Foundation
News by subject