Vyacheslav Nikonov elected to presidium of Association of Russian Literature
/ Главная / Russkiy Mir Foundation / News /

Vyacheslav Nikonov elected to presidium of Association of Russian Literature
Vyacheslav Nikonov elected to presidium of Association of Russian Literature

27.05.2016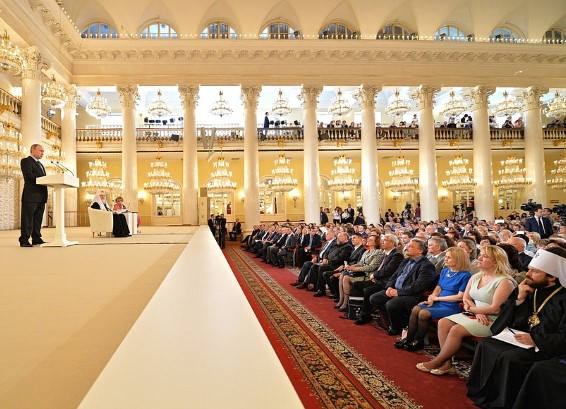 On May 26, the Pillar hall of Unions hosted the first forum of the Association of Russian Literature. President of the Russian Federation Vladimir Putin
delivered
an opening speech saying that Russian classic literature and the Russian language are the basis of our spiritual and historical values. In his turn, the Head of the Association of Russian literature Patriarch Kirill
suggested
completing the USE in the Russian language and literature with an oral section.
According to the Forum's decision, Vyacheslav Nikonov, Executive Director of the Board of the Russkiy Mir Foundation and the Chairman of the Education Committee of the State Duma, has been included into the presidium of the Association.
Giving his comments on reports delivered at the congress, Vyacheslav Nikonov underlined that the system of the USE initially supposed the assessment of school leavers' formal knowledge and not their skills in presenting their thoughts in oral and written forms.
‒ Since I became the Chairman of the Education Committee, I have been calling for the alteration of the USE form. We have managed to introduce the composition to the examination form again. Such subjects as the Russian language and literature have become independent subjects but that is not enough, of course. If Alexander Sergeevich Pushkin had had to take a USE in Russian and literature, "the old fellow Derzhavin" would not have had any chance "to notice and bless" him. I am sure that an oral section should be definitely added to the USE in the Russian language and literature – Vyacheslav Nikonov underlined.
The politician shares Vladimir Putin's opinion that well-bred speech and the knowledge of contemporary and classic literature should come into fashion and become decency.«Our Russkiy Mir Foundation has been dealing with programs focused on the promotion of the Russian language for several years now and we can say that the attitude to its learning has changed for the better. The goal of the Association of Russian Literature is to join efforts of scientists, teachers, and workers of culture in order to preserve and develop the Russian language in our country», – he said.
News by subject