Foreigners with Outstanding Results in Total Dictation Receive Prizes from Russkiy Mir Foundation
/ Главная / Russkiy Mir Foundation / News /

Foreigners with Outstanding Results in Total Dictation Receive Prizes from Russkiy Mir Foundation
Foreigners with Outstanding Results in Total Dictation Receive Prizes from Russkiy Mir Foundation

26.04.2016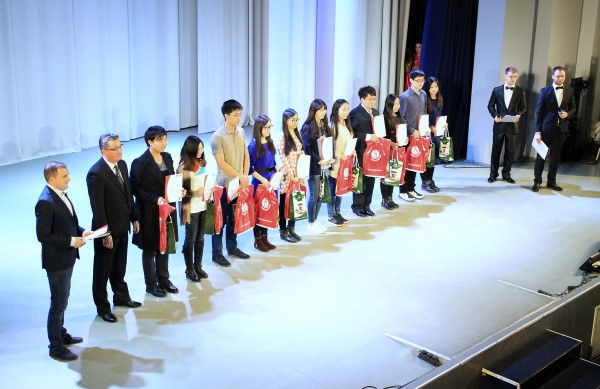 On 23 April, Vladivostok State University of Economics and Service organized an awarding ceremony for the most literate participants of the Total Dictation. This year, the Dictation saw its first participants with Russian as foreign language. Such participants had s special test prepared or them; it was called TruD. The results are quite astonishing: 12 people of 200 partakers received 95 point out of 100.
"Total Dictation is a very useful thing. It shows your level of Russian. You feel like you are taking an exam – you get very emotional," – says Lan Sho from China, a postgrad student of the Russian language and literature of the Far East Federal University. "It was really nice to receive a prize from the Russkiy Mir Foundation, as I've been reading your Journals for a while now."
According to Natalya Milyanshyuk, Head of the Total Dication expert committee, Vice-President of the Asian-Pacific Association of the Russian language and literature teachers, the task for the foreign partakers was different. "First, together with other participants, they listened to the text read by Andrey Usachyov, and then, they had to do several tasks based on this text. Finally, they wrote a little part from the general dictation task. However, this was not the easiest part, most of the students managed to make it through."
Around 20% of the foreign participants wrote their tasks in Vladivostok making it the biggest platform for the TruD. "This shows that today Vladivostok is a center for Russian language studies, center for Russian as foreign language, and a force of soft influence in the Asian-Pacific region. And this so-called soft influence is much more powerful than any kind of weapon known," – marks Alexander Zubritsky, Head of the Far East affiliate of the Russkiy Mir Foundation and President of the Asian-Pacific Association of Russian language and literature teachers.
Participation of foreigners in the Total Dictation is a precedent that has to become some general procedure. And, as there are more than 3,000 foreign students learning in Vladivostok, we see a lot of potential for doing so.
News by subject