Tallinn Hosts a Meeting of International Association of Russian Language and Literature Teachers
/ Главная / Russkiy Mir Foundation / News /

Tallinn Hosts a Meeting of International Association of Russian Language and Literature Teachers
Tallinn Hosts a Meeting of International Association of Russian Language and Literature Teachers

27.04.2016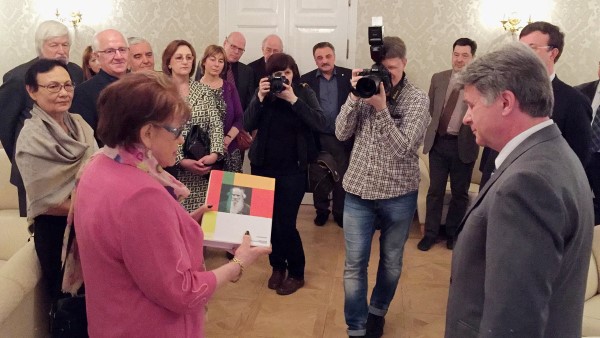 Representatives of 12 counties – scientists from the UK, Germany, Georgia, Spain, Kazakhstan, China, Moldova, Russia, Romania, the US, Finland, and Switzerland – participated in the meeting of the International Association of Russian Language and Literature Teachers (ARLLT) held on 22 April 2016 in Tallinn, Estonia, with the support of the Russkiy Mir Foundation.
The event took place at the Park Inn by Radisson Meriton Conference & Spa Hotel Tallinn and was dedicated to the 10th Conference "Russian as foreign language: the past, the present and the future. New era – New vision" organized by the Association of the Russian language and literature teachers in Estonia.  
The General committee of ARLLT ruling the association unites Russian language scientists from 16 countries. Such meetings are organized twice per year to discuss main issues of the association's further development. This time the agenda included the following: preparations for the next 14th Summit of ARLLT in Astana, Kazakhstan, celebration of the 50th anniversary of the association in 2017, inclusion of the new groups and individual members, celebration of the leading Russian language scientists with the Pushkin medals.
On 22 April, ARLLT delegation together with Lyudmila Verbistkaya, Head of the association, President of the Russian Academy of Sciences and Chairperson of the supervisory board of the Russkiy Mir Foundation, participated in the ceremony of presenting the Russian embassy in Estonia with the school encyclopedic dictionary "The Russian language" and its guidance manual. This new project, prepared by the group of authors from St. Petersburg State University, was published with the support of the Russkiy Mir Foundation; it is believed, this issue will become popular among both the teachers of the Russian language and the students.  
News by subject