Vyacheslav Nikonov Presents "Hour of Courage" – A Compilation of Poetry from Donbas Region
/ Главная / Russkiy Mir Foundation / News /

Vyacheslav Nikonov Presents "Hour of Courage" – A Compilation of Poetry from Donbas Region
Vyacheslav Nikonov Presents "Hour of Courage" – A Compilation of Poetry from Donbas Region

04.06.2015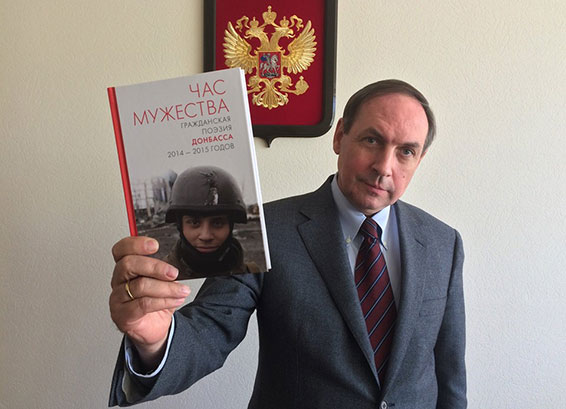 On June 4, at the press center of Rossiya Segodnya in Moscow, a press conference was held with Vyacheslav Nikonov, Chairman of the Russkiy Mir Foundation Management Board and Chairman of the State Duma Education Committee. The press conference was titled "The Soft Power of the Russian Language". 
At the meeting with journalists dedicated to Russian Language Day (June 6), the politician and international relations expert discussed the potential of the modern Russian language as a soft power factor of the Russian Federation on the international arena.
During the press conference a compilation of poetry from the Donbas region titled "Hour of Courage" was presented. This book, which was created with the support of the Russkiy Mir Foundation, "reflects the thoughts and values of the undefeated Donbas region – dignity, courage, humanity and an aspiration for freedom and peace," Nikonov said. Several authors whose works were included in the compilation – Vladislav Rusanov, Marina Berezhneva, Anna Revyakina and others – also participated in the presentation.
The Russkiy Mir Foundation will be distributing the book not only in Russia but also in Donetsk and Luhansk as well as at the foundation's Russian Centers operating in dozens of countries around the world.
Russkiy Mir Foundation Information Service
News by subject