Archive of Strugatsky Brothers Taken to Russia for Safekeeping
/ Главная / Russkiy Mir Foundation / News /

Archive of Strugatsky Brothers Taken to Russia for Safekeeping
Archive of Strugatsky Brothers Taken to Russia for Safekeeping

16.05.2015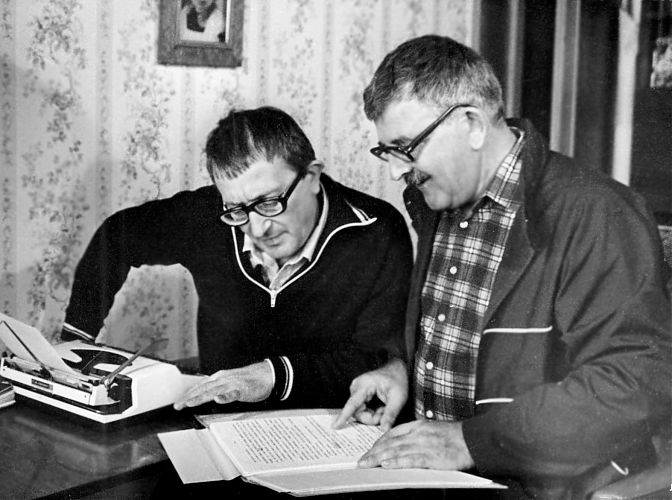 Documents, manuscripts and drafts of famous Soviet science fiction writers Arkady and Boris Strugatsky were transported from Donetsk to Russia. The archive, having miraculously survived shelling by Ukrainian Army, will now be stored in the apartment of Boris Strugatsky's son Andrew.
The large archive that includes hundreds of manuscripts, drafts and other valuable documents, was moved to Ukraine in 1990s by editor Svetlana Bondarenko, a resident of Donetsk. The artistic heritage of Soviet science fiction was transported to Donetsk with the permission of Boris Strugatsky, who died in 2012. The idea was to publish a 12-volume complete works of the Strugatsky brothers. Thus, the unfinished text and personal correspondence of the brothers happened to be transferred to Donetsk.
"After Donetsk was subjected to shelling by Ukrainian Army in July-August of 2014 the files with the manuscripts had been transferred to a more safe place in Kuybyshevskiy district. Nevertheless, in the end of November the hostilities advanced inside the district, and we started worrying and turned to Russian writers and journalists for help," explained Deputy Chairman of the DPR Union of Writers Vladislav Rusanov, who organised the evacuation of the archive.
Ruslan Melnikov, a correspondent of Rossiyskaya Gazeta, organized the official transfer of the archive back home, Rusanov said, calling the archive "valuable for literature scholars as well as for every science-fiction lover."
Russkiy Mir Foundation Information Service
News by subject