Results of a Roundtable "Russian World: Essence and Values"
/ Главная / Russkiy Mir Foundation / News /

Results of a Roundtable "Russian World: Essence and Values"
Results of a Roundtable "Russian World: Essence and Values"

24.03.2010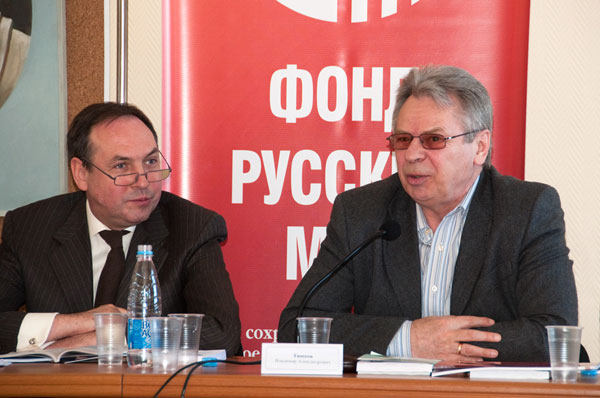 The event was attended by scientists, political analysts, public figures, media chiefs, journalists, and representatives of the Russkiy Mir Foundation, and was focused on a broad number of issues: "How to define the term "The Russian World"?, "What are the links between the Russian World and the Civilization?", "What are the prospects of the Russian World on the global scale?"
Vyacheslav Nikonov, Executive Director of the Russkiy Mir Foundation, noted that the Russian World is a civilization, which exceeds ethnos and territories by scale; many people, who claim themselves to be a part of the Russian World are not Russian or Russia's citizens, do not come from Russia, and do not have any Russian roots. Many of such people do not live in Russia. Those claiming to belong to the Russian World speak Russian, learn or teach the language, and are interested in Russia and everything related to it.
Director of the Institute of Philosophy of the Russian Academy of Sciences A. Guseinov made a point that Russia cannot be limited to its official borders, i.e. the term "Russian" can be interpreted as "mentality and historical ambitions".
Director of the Institute of Ethnology and Anthropology (RAS) V. Tishkov considers the Russian World not only as an objective reality, but also as a certain idea or a metaphor. This notion has gained a new meaning related primary to culture. "In order to consider oneself a cultured person – independent of one's nationality - it is vital to know who Tchaikovsky or Dostoevsky are. This means that we have created a certain cultural baggage, which is an integral part of the global culture", he said.
The ability of culture to unitie the Russian World became a subject of the next speech, given by V. Lektorsky, Academician and Editor-in-Chief of Voprosy Filosofii (Phylosophy Issues) magazine. In his view, a country, which is economically sound, but has lost the spirit of culture, cannot be called Russia.
According to journalist and host of an analytical television program Sudite Sami (Judge Yourself) M. Shevchenko, the Russian World has a strong creative potential. The goal of this structure is to offer a concept for the future development, instead of trying to collect pieces of the past. "Russia has always been multiethnic," he added.
Deputy Executive Director of the Russkiy Mir Foundation T. Bokova said that the basic notions of the Russian World develop in childhood. Ms Bokova, who writes books for children, focused on a lack of positive modern characters in the contemporary children's literature. She made a point that existence of such characters and their positive example can have a positive impact on children's attitude to Russia.
The roundtable was highly appraised by all its participants, who decided to organize other events of the kind in future. A schedule of future events will be available on the website of the Russkiy Mir Foundation.
News by subject