Leadership of the Russkiy Mir Foundation Meets Wilton Park's Richard Burge
/ Главная / Russkiy Mir Foundation / News /

Leadership of the Russkiy Mir Foundation Meets Wilton Park's Richard Burge
Leadership of the Russkiy Mir Foundation Meets Wilton Park's Richard Burge

24.02.2010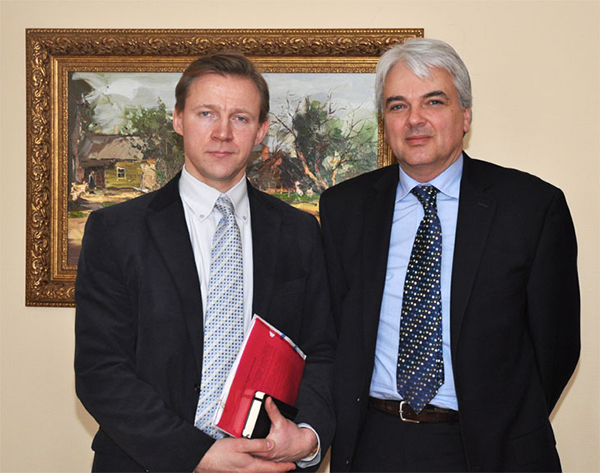 February 24 Executive Director of the Russkiy Mir Foundation and Deputy Director of the Institute of Europe RAS and Regional Director for the foundation's European Programs Alexey Gromyko met with Head of the Wilton Park executive agency Richard Burge.
Wilton Park is an academically independent and non-profit-making Executive Agency of the British Foreign and Commonwealth Office (FCO). Its conferences provide an excellent environment for leading opinion formers to discuss the best ways to deal with key challenges. Conferences cover the key political, security and economic issues confronting the world.
Among the issued discussed by the meeting participants was a potential establishment of a conference or a roundtable for Russian and British experts with the aim to address various issues of the European and the global scale related to Russia and the United Kingdom.
"Russian experts have already established cooperation with their German, French, Polish and Italian counterparts, but Russo-British expert platform still does not exist," said Alexey Gromyko. "It is quite strange, taking into account Russia and UK's standing both in Europe and on the global scale…our countries are the members of the UN Security Council. The current dialogue between London and Moscow is purely political, and our current goal is to move our cooperation to another level…We expect Wilton Park to make concrete suggestions, and we also hope that a platform enabling our experts to work on a regular basis will be created".
News by subject