Russkiy Mir Foundation to Support Russian Musicians' Participation in Night of the Arts in Helsinki
/ Главная / Russkiy Mir Foundation / News /

Russkiy Mir Foundation to Support Russian Musicians' Participation in Night of the Arts in Helsinki
Russkiy Mir Foundation to Support Russian Musicians' Participation in Night of the Arts in Helsinki

14.08.2008
From August 15-31, 2008, the Night of the Arts festival is celebrating its 40th anniversary in Helsinki. The event traditionally brings artists from around the Baltic region, as well as visitors from across Europe and other parts of the world. For the first time, the Russian project "Jazz Travel Finland. Jazz season" is taking part in the festival.
Svetlana Kolosova, director of Planets ART, says, "Russo-Finnish relations have a very long history, and our peoples have always been close spiritually and share territorial and cultural ties. This is precisely what paved the way for Jazz Travel to come to Finland in 2008, to our old friend and good neighbor. The entire project is three seasons of classic jazz music and the Christmas train with master artists from Russia and Finland.
"The first season is Jazz Travel Finland. The Classic season took place in May 2008. Our project has showcased classical musicians from Russia and Finland.
"In the second season – Jazz Travel Finland. Jazz season – we are showcasing Russian jazz projects, including performances by Maxim Piganov on the trombone, Lev Lazarev as a soloist, and the group Aura. Violinist Valery Nikitin will be performing with Aura."
The Russian musicians' performance in the festival has been supported by Russia's Federation Council, State Duma Committee on Culture, Russia's Federal Agency for Culture and Cinematography, the Russian Center for International Scientific and Cultural Cooperation (Rosintercenter), Russian Railways, the European Committee in Russia, the Embassy of Finland in Russia, the Finnish-Russian Chamber of Commerce, as well as other organizations. Metropolitan Kirill of Smolensk and Kaliningrad also expressed his support for the project.
The Russkiy Mir Foundation is the official sponsor of the Jazz Travel Finland. Jazz season project. The project's Russian organizer is Planets ART, and the Finnish organizer is producer and pianist Sergey Sokolov.
News by subject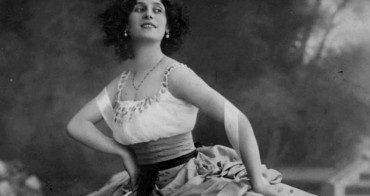 Today Russian ballet is a world-famous brand. It was Anna Pavlova, a famous Russian ballerina, who made it this way more than a hundred years ago. She was the one who suggested Sergei Diaghilev to include ballet performances in Russian Seasons. And soon the whole world was at Pavlova's feet. February 12 marks the 140th anniversary of the birth of this outstanding woman, whose name is remembered and whose talent is still admired all over the world.