Russkiy Mir Foundation Holds Roundtable on "Opening the Russian World Through Libraries and Reading" at School Librarians' Forum in Mikhailovsky
/ Главная / Russkiy Mir Foundation / News /

Russkiy Mir Foundation Holds Roundtable on "Opening the Russian World Through Libraries and Reading" at School Librarians' Forum in Mikhailovsky
Russkiy Mir Foundation Holds Roundtable on "Opening the Russian World Through Libraries and Reading" at School Librarians' Forum in Mikhailovsky

01.07.2008
For the second time at the Mikhailovskoye Pushkin Open Air Museum, the Russian School Library Association held a forum for the country's school librarians. Yury Laptev, President Medvedev's advisor on culture and art, and Ludmila Putina greeted participants, who included representatives from Russia's Ministry of Education and Science, Ministry of Information Technologies and Communications, regional agencies and social organizations.
This year, the Russkiy Mir Foundation provided financial support for the forum, which included a special roundtable discussion on the topic of "Opening the Russian World Through Libraries and Reading."
Vyacheslav Nikonov, executive director of the Russkiy Mir Foundation, sent his greetings to participants, noting, "It's gratifying to be aware that such a forum representing a professional community has appeared in Russia. The importance and role of libraries is impossible to overstate, as they are one of the fundamental institutions that influence the new generation, forming a spiritual and moral framework for young Russians. The library of the 21st century is not merely a resource center, but also a forum for communications and creativity.
"You are engaged in very important and instrumental work. The Russkiy Mir Foundation, which seeks to increase the popularity of Russian language and culture, fully supports this forum, which gives library professionals the opportunity to come together and learn about each others' achievements, hold creative discussions, exchange ideas and decide on new ways to further develop their activities.
"I sincerely wish all the participants at this forum success in their work ahead, new creative achievements and discovery of promising directions for your honorable work. I fully support your efforts to further serve the ideal of the great Russian language and preserve our written heritage."
During the forum's opening ceremony, the Russkiy Mir Foundation took part in honoring the winners of the Best Librarian of the Year competition. The 14 best school libraries received collected works of Russian classics as gifts from the Foundation.
News by subject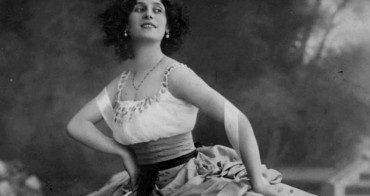 Today Russian ballet is a world-famous brand. It was Anna Pavlova, a famous Russian ballerina, who made it this way more than a hundred years ago. She was the one who suggested Sergei Diaghilev to include ballet performances in Russian Seasons. And soon the whole world was at Pavlova's feet. February 12 marks the 140th anniversary of the birth of this outstanding woman, whose name is remembered and whose talent is still admired all over the world.