Two Russian Centers Open in Kazakhstan
/ Главная / Russkiy Mir Foundation / News /

Two Russian Centers Open in Kazakhstan
Two Russian Centers Open in Kazakhstan

07.07.2008
Two Russian Centers were opened this past weekend in Kazakhstan – one in Astana and the other in Ust-Kamenogorsk.
On Saturday, July 5, an opening ceremony was held for the Russian Center in Astana, which coincided with the 10th anniversary of the city's founding. The project was the result of a three-way agreement between the Russkiy Mir Foundation, the Presidential Center for Culture and the Union of Eurasian Scholars.
At the opening ceremony, Myrzatai Zholdasbekov, director of the Presidential Center for Culture, noted how well equipped the Russian Center was. He also expressed his gratitude for the more than 2,000 books and 300 Russian films that were donated. In accordance with the agreement, the collections will be expanded regularly.
According to Zholdasbekov, the Russian Center is intended to play an important role in the realization of a unique project that is being promoted by Kazakh President Nursultan Nazarbaev. The project – "Triune of Language" – supports the development of the Kazakh, Russian and English languages in educational institutions of all levels.
Zholdasbekov also noted, "While the center will primarily serve Russian studies specialists, it will be open and free of charge for all residents of Kazakhstan."
"Our foundation is no longer brand new, although it's still newer than Astana," said Vyacheslav Nikonov, executive director of the Russkiy Mir Foundation. "Last week was the first anniversary of the signing of the presidential decree concerning the foundation's founding."
"The Russian world is not only about ethnic Russians," Nikonov continued. "It's a very wide understanding that is very multinational and multi-confessional in nature. The Russian world today even speaks different languages. We meet with representatives from Russian communities who are fourth generation immigrants. Often, they don't speak Russian at all. Nevertheless, they feel a connection to this enormous Russian world…
"Russian is the fourth or fifth most widespread language in the world today and is a major competitive advantage for those countries where it is present. Knowing Russian not only opens the rich Russian culture to people; it also allows them even greater access to an expansive civilization. Kazakhstan, of course, is a unique country where everyone studies Russian.
"Russian culture has never been isolationist; rather, it has always included a diverse group of peoples and even states. It's impossible to imagine Russian culture, for example, without Abay, who is an integral part of the world of Russian culture. He became known around the world, not least because of the Russian language and the translation of his works into Russian. In many countries there is a growing interest in Russian, and there is often a shortage of Russian language teachers. Lines have appeared at Russian studies departments as students have begun to understand that without a knowledge of Russian, it is impossible to get a decent job."
Nikonov expressed special thanks to the leadership of Kazakhstan, which supported the idea of establishing a Russian Center in Astana, as well as great appreciation to Kazakhstan's Russian specialists who treat teaching Russian as both a professional and personal duty.
After the opening ceremony, Nikonov took part in a press conference, where he said that work is underway to prepare for the opening of approximately 80 Russian Centers around the world. This fall, the Russkiy Mir Foundation plans to rapidly increase the speed with which Russian Centers are opened. There are plans to open one center each week in places everywhere from Australia to Argentina.
The main goal of the Russian Center project is to ensure resourceful instruction in the Russian language, literature, history and culture. "The model Russian Center," Nikonov explained, "is primarily a resource center, which is a kind of gift to those organizations that have an interest in developing this area. For example, the Russian Center in Astana is not a branch of the Russkiy Mir Foundation, but rather a Russian Center belonging to Kazakhstan's Presidential Center for Culture. We use the same methods in other countries, opening Russian Centers at major libraries and universities – wherever there is a demand."
Nikonov went on to talk about the Russkiy Mir Foundation's grant programs, and following a lengthy question and answer session, he promised to explore the idea of expanding the Foundation's grant policy to fund projects that go beyond the boundaries of traditional Russian studies.
On the next day, July 6, another Russian Center was opened in Ust-Kamenogorsk at the Ust-Kamenogorsk Pedagogical Institute. At the opening ceremony, Nikonov told journalists that the Foundation is considering opening additional Russian Centers in other cities across Kazakhstan.
News by subject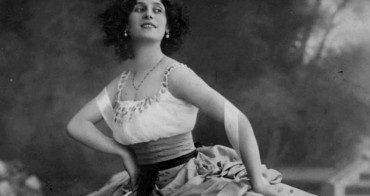 Today Russian ballet is a world-famous brand. It was Anna Pavlova, a famous Russian ballerina, who made it this way more than a hundred years ago. She was the one who suggested Sergei Diaghilev to include ballet performances in Russian Seasons. And soon the whole world was at Pavlova's feet. February 12 marks the 140th anniversary of the birth of this outstanding woman, whose name is remembered and whose talent is still admired all over the world.