Monument to Vice Admiral Vasily Golovin Established in Vanuatu
/ Главная / Russkiy Mir Foundation / News /

Monument to Vice Admiral Vasily Golovin Established in Vanuatu
Monument to Vice Admiral Vasily Golovin Established in Vanuatu

28.07.2009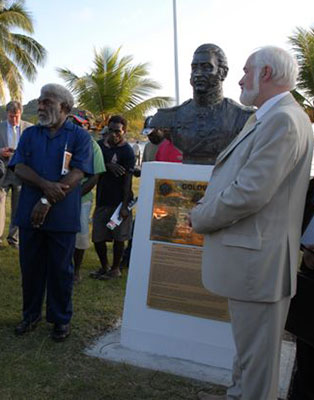 On July 28, in Port Vila, the capital of the island nation Vanuatu, a monument to Russian Vice Admiral Vasily Mikhailovich Golovin was officially unveiled. The Russkiy Mir Foundation provided financial support for the establishment of the monument.
The event coincides with the 200th anniversary of the first contact of Russia with the New Hebrides Islands (present-day Vanuatu), which occurred when the Russian chatoupe Diana sailed into Resolution Bay on the island of Tanna. It was then, in 1809, that the first friendly contact was made between Russian explores and the natives of the islands. An ethnographic collection from the trip is preserved to this day in the Peter the Great Museum of Anthropology and Ethnography.
Nikolai Mishutushkin, an artist and president of the N. Mishutushkin – A. Pilioko Foundation, was the initiator of the project. He has lived in Vanuatu for nearly 50 years and has made a significant contribution to country's relations with the Russian world, making efforts to ensure that teaching of the Russian language holds a prominent place in the Asia-Pacific region.
Russian ambassador to Australia Alexander Blokhin and the Vanuatu Prime Minister Edward Natapei attended the unveiling ceremony.
News by subject