Russkiy Mir Executive Director Vyacheslav Nikonov and Minister of Education of Mongolia Otgonbayar Yondon Discussed Prospects of Russian Language
/ Главная / Russkiy Mir Foundation / News /

Russkiy Mir Executive Director Vyacheslav Nikonov and Minister of Education of Mongolia Otgonbayar Yondon Discussed Prospects of Russian Language
Russkiy Mir Executive Director Vyacheslav Nikonov and Minister of Education of Mongolia Otgonbayar Yondon Discussed Prospects of Russian Language

24.08.2009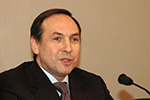 On August 24 prior to the official visit of the Russian President Dmitry Medvedev to Mongolia, Russkiy Mir Foundation Executive Director Vyacheslav Nikonov met with members of the Presidium of the Mongolia Association of Teachers of the Russian Language and Literature and the staff of the Russian Center of Science and Culture in Ulan Bator.
Other participants of the meeting include Director of Regional Projects for the Russkiy Mir Foundation Georgy Toloraya, Director of the Russian Center for Science and Culture (RCSC) Edwin Ruden, Director of the RCSC Russian Language Center Tamara Bronskaya. The Mongolian side was represented by President of the Association of Teachers of the Russian Language and Literature, a Rector of the Institute of foreign languages and a Professor S. Galsan and members of the association, who are heading Russian Language departments of various schools and universities of Mongolia. The meeting participants discussed the status of the Russian language in Mongolia and suggested patterns of future cooperation.
On the same day Vyacheslav Nikonov met the Minister of Education and Culture of Mongolia Yondon Otgonbayar in order to discuss a broad range of issues related to the Russian language studies, including the decision of the Mongolian government to introduce teaching of Russian as a foreign language in schools starting from the 6th year of education.
At both meetings Mongolian linguists highlighted the key problem – a severe lack of modern Russian study and training books (the currently used books are obsolete and do not meet the modern education standards.
Vyacheslav Nikonov came out with an initiative saying that Russkiy Mir Foundation was ready to assist linguists of the two countries in development of modern study books. He also said that the meeting was extremely important, since it preceded President Medvedev's visit to the country. The visit is to mark the 70th anniversary of the signing of a peace agreement between the USSR, Mongolia and Japan following the military conflict near Khalkhin-Gol.
In his turn, Yondon Otgonbayar talked about the situation with the Russian language studies in Mongolia. Being a graduate of a Russian university and fluent in Russian, he said he was sorry that popularity of the Russian language had somewhat declined in the past ten years, but the situation was constantly improving.
Vyacheslav Nikonov confirmed growth of interest towards the Russian language in the countries, which previously were a part of the Council for Mutual Economic Assistance. Regardless of sophisticated political relations, the Russian language still links Russia with former socialist countries.
The same day saw the opening of the methodology room of the Russkiy Mir Foundation at the Military University. According to Vyacheslav Nikonov, it marked a long military cooperation between Russia and Mongolia. The Russkiy Mir Foundation Executive Director also expressed hope for successful continuation of friendly relations between the two countries.
News by subject