President Dmitry Medvedev Visits Russian Center in Ulan-Bator
/ Главная / Russkiy Mir Foundation / News /

President Dmitry Medvedev Visits Russian Center in Ulan-Bator
President Dmitry Medvedev Visits Russian Center in Ulan-Bator

25.08.2009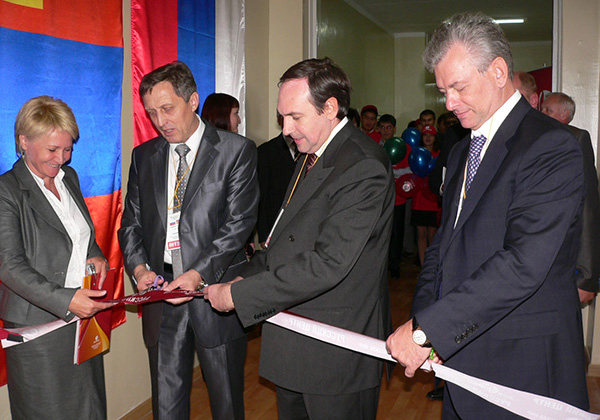 As a part of his first official visit to Mongolia, Russian President Dmitry Medvedev visited the Russian Center opened that same day by the Russkiy Mir Foundation at the Mongolia branch of the Plekhanov Russian Academy of Economics in Ulan-Bator.
"We told the President what the Russian Centers are and informed him that during his visit to Mongolia two Russian Centers were opened in Ulan-Bator and four Russian Rooms were opened in different areas throughout the country," said Russkiy Mir Foundation Executive Director Vyacheslav Nikonov. "The President of Russia expressed interest in how the centers function and the methods for teaching developed by the Russkiy Mir Foundation. He spoke with students, who told him why it is important for them to learn Russian. Young people, visitors of the Russian center, shared their interest as much about Russia as possible. They are glad that now they can find in the Russian Centers all the necessary information about the culture, traditions, history and contemporary life of Russia."
According to Vyacheslav Nikonov, the problem of the lack of modern Russian-language textbooks was discussed at a meeting of President Medvedev and Minister of Education, Science and Culture of Mongolia Otgonbayar Yondon. Russian-language classes are offered in Mongolia's public schools starting from the 7th grade. "It was the Russkiy Mir Foundation that together with colleagues in Mongolia took upon itself the task of preparing modern textbooks for public schools in Mongolia," Nikonov explained.
This year marks the 70th anniversary of the signing of a peace agreement between the USSR, Mongolia and Japan following the military conflict near Khalkhin-Gol. The documentary "On the Banks of Khalkhin-Gol", created by the Russkiy Mir Foundation and Vesti to honor this occasion, tells of the historical significance and previously unknown facts of this event.

The President noted the significance of the creation of this documentary. "I believe that this victory, which was achieved by our peoples, helped promote the development of our countries, and it facilitated their independence. It prevented an substantial number of threats faced our states and humanity as a whole," President Dmitry Medvedev said.
Dmitry Medvedev left his comments on the guest book of the Russian Center: "I welcome the initiative of the Russkiy Mir Foundation to create Russian Centers in Mongolia. I hope that all visitors of this and other such centers will receive all the necessary assistance in studying the Russian language! Good luck!"
News by subject