International Seminar on Implementation of New Methods of Teaching of the Russian Language Conducted in Vienna
/ Главная / Russkiy Mir Foundation / News /

International Seminar on Implementation of New Methods of Teaching of the Russian Language Conducted in Vienna
International Seminar on Implementation of New Methods of Teaching of the Russian Language Conducted in Vienna

02.09.2009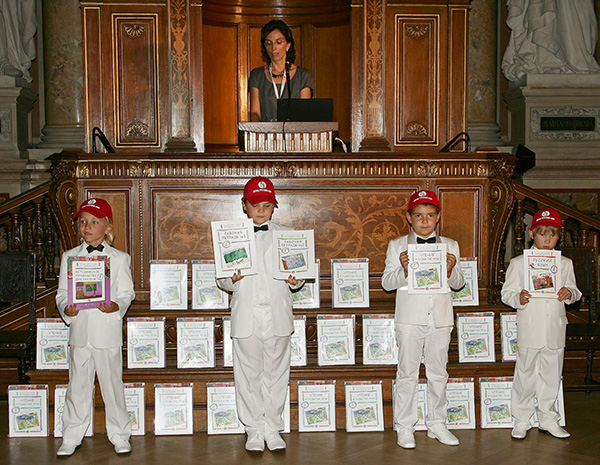 On September 1 the University of Vienna hosted an opening ceremony of the First International Seminar on implementation of innovative methods of the Russian language teaching. Presentation of new methods was made on the basis of new teaching materials aimed at foreign-based Russian-language schools and developed in cooperation with the Russkiy Mir Foundation.
Participants of the ceremony included Managing Director of the Austrian-Russian Friendship Society, Florian Stermann, Head of the International Department of the Austrian Ministry of Education Dr. Anton Dobart, Deputy Minister of Education and Science of the Russian Federation Issak Kalina, Deputy Head of the Department for International Relations, Ministry of Education and Science of the Russian Federation Larisa Efremova. The Russkiy Mir Foundation was represented by its Deputy Executive Director Tatiana Bokova, Head of the Department of Educational Programs Irina Stepanova and Director for European Programs Alexei Gromyko.
In her speech Tatiana Bokova said that the international seminar is the first large-scale event organized by the Russkiy Mir Foundation outside Russia. It was attended by over 100 Russian language teachers from 20 countries.
Development of the presented teaching materials was sponsored by Russkiy Mir and implemented by linguists from the People's Friendship University of Russia and the community Russische Internationale Schule. A unique new methodology of the Russian language teaching for the first time reflects not only Russian, but also European education standards. Each seminar participant received eleven sets of textbooks.
The currently available textbooks are targeted at 7-10 year olds. Textbooks for other age groups are being developed. According to Tatiana Bokova, the new methodology will help pupils learn the Russian language easily and efficiently.
News by subject