"Symbols of Russkiy Mir" Event Took Place at Pushkin Monument in Madrid
/ Главная / Russkiy Mir Foundation / News /

"Symbols of Russkiy Mir" Event Took Place at Pushkin Monument in Madrid
"Symbols of Russkiy Mir" Event Took Place at Pushkin Monument in Madrid

09.10.2009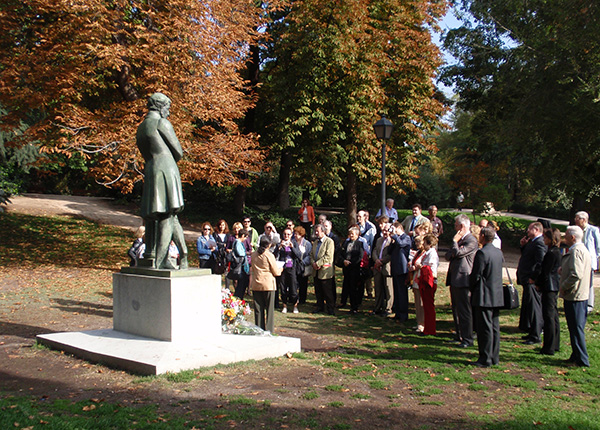 On the morning of October 9, participants and guests of the book festival "Liber-2009" gathered at the Pushkin monument in Madrid, where a Russkiy Mif Foundation – initiated "Symbols of Russkiy Mir" event took place.
Russian Ambassador to Spain A.I. Kuznetsov placed a wreath at the monument's pedestal and opened the meeting with a warm welcoming speech. After thanking those present, Ambassador Kuznetsov spoke of the dynamically developing cultural ties between Russia and Spain and about the importance of preserving Russkiy Mir in Spain. The ambassador then proceeded to wow the crowd with his impassioned reading of Pushkin's poem "Monument".
The ambassador was followed by Deputy Executive Director of the Russkiy Mir Foundation Tatiana Bokova, who spoke about the origin of the "Symbols of Russkiy Mir" events, the first of which took place at a monument to Anna Akhmatova in Moscow, and about the universality and communality of Russkiy Mir's spiritual values across nationalities and races. She noted that there are already around 300 monuments to Pushkin throughout the world, and this number is growing.
News by subject